27 Mar

How Long is Truck Driving School?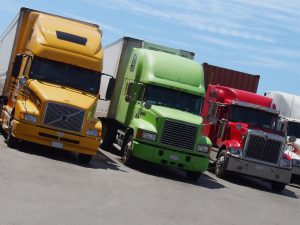 Truck driving is a popular career choice in Canada, with many job opportunities in the transportation industry. To become a professional truck driver, individuals must complete a truck driving school program to obtain a Class A license. However, the length of these programs can vary depending on several factors, such as the type of program, the student's availability, and the school's curriculum. Knowing how long you will need to be in school will help you plan your career and prepare for life on the road. Let's explore the duration of Ontario truck driving school programs and other important information for aspiring truck drivers.
Legal Training Requirements
In Ontario, truck driving schools are subject to government-mandated minimums. These regulations dictate the time to train at a truck driving school.
As of 2022, all prospective truck drivers must take at least 103.5 hours of instruction. These hours break down into the following:
5 hours of in-class theory training
17 hours in the yard (practicing outside of roadways)
50 hours of in-cab training behind the wheel with an instructor
Additionally, the driver must pass two government-mandated tests: the Class Z Air Brake Endorsement Test and the Class A or Class D Road Test. The Class Z Air Brake Endorsement Test is necessary because most trucks utilize air brakes, meaning that a Class A or Class D Road Test is insufficient to become a professional truck driver.
The Class Z Air Brakes Endorsement Test is a short commitment: 6.5 hours in the classroom and 2 hours in the yard. They are typically divided into two or three days, although it is possible to do all the training in one day.
Notably, the 103.5 hours of instruction is only the minimum mandated by the government. Additional training may be required depending on the individual's experience level. It is also important to note that trucking companies may require additional training from their drivers in addition to the government-mandated minimums.
Truck Driving School Training Layouts
Completing a truck driving school in Ontario is a big commitment and requires significant time. To receive a commercial truck driver's license in the province, students must spend at least 103.5 hours training for their AZ license, as the provincial government mandates. The time spent on the road must include various scenarios to ensure that all new drivers are well-equipped to handle any situation that may arise while on the job.
In total, students will have to spend several weeks preparing before they are eligible to take their final road test. This includes classroom instruction and time spent taking pre-trip inspections, learning defensive driving techniques, and practicing backing maneuvers. Depending on the individual and their learning pace, some people may take longer to complete the course than others.
Obtaining your CDL/AZ license in Ontario in 5-7 weeks is possible if you have the time and finances to commit to full-time training. This requires students to pay for their training in addition to not working for the duration of the course, plus train for 6-8 hours a day, five days a week. While full-time training can be exhausting, it offers the benefit of hands-on training in dedicated facilities. Many schools also offer part-time training that can be completed in 3-6 months.
No matter the training option, you can complete your training in under a year and be on your way to a truck driving career.
Time Commitment for Truck Driving School
Truck driving school in Ontario is a substantial time commitment. The length of the course varies depending on the program and the individual, but it is generally between three to six months. During this period, students will spend time in the classroom and practical training, learning the necessary skills and safety regulations for operating commercial trucks.
At the same time, students must also complete any required testing or assessments before they can receive their Commercial Driver's License. This could include a knowledge test and a road test, which may be completed through the Ministry of Transportation.
While attending truck driving school, students should also factor in additional hours for preparation and study. Depending on the student's learning style and the length of the program, they may need to dedicate several hours each day to studying, completing homework assignments, and taking practice tests.
By factoring in these factors, potential truck drivers can better understand the time commitment associated with truck driving schools in Ontario. This can help ensure that they are ready to commit to the duration of the program and can focus on getting their license as quickly as possible.
How to Make the Best Use of Your Training Time
It is essential to make the most of your truck driving school training time so that you can become a qualified and safe truck driver. Here are some tips to help you make the most of your time in truck driving school:
Get your affairs to devote your time at truck driving school to learning with minimal disruption.
Make sure you have a strong understanding of the rules of the road and trucking regulations. The more you know, the more prepared you will be for the test and your career.
Take practice tests and quizzes before your official test day to ensure you are comfortable with the material and ready for the test.
Set aside time to practice driving the truck to get used to its size and the way it handles.
Speak up and ask questions when something isn't clear.
Take care of yourself – get enough rest, eat well, and exercise. This will ensure you are focused and ready to learn every day.
Truck driving schools in Canada can vary in length depending on the program and the student's needs. Whether you seek a short-term program or a more comprehensive training experience, options are available. Researching and comparing different schools and programs is essential to find the one that best suits your goals and budget. With the proper training and certification, you can launch a fulfilling career as a professional truck driver in Ontario. Contact Toronto Truck Driving School to get started on your truck driving education!